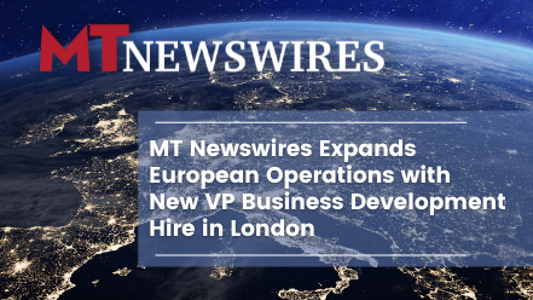 MT Newswires Expands European Operations with New VP Business Development Hire in London
Recently enhanced and expanded coverage of European markets lends to and strengthens MT Newswires' flagship global markets offering


A growing European client base has proven MT Newswires to be the first-choice financial news solution for many of the largest banks, brokerage firms, and professional market data, trading, and research applications globally


Sales executive Debbie Williams joins as VP Business Development, Europe to lead EMEA-based sales initiatives
Bethesda, Md. (March 15, 2022) - MT Newswires - MT Newswires, a leading provider of real-time global financial news, announces the hiring of seasoned sales executive, Debbie Williams, to head up the company's business development efforts across Europe. This announcement comes on the heels of significant sales traction and demand in the region, stemming from the news providers' recently enhanced and expanded coverage of EMEA-based capital markets and economies. Located in the UK, Williams joins MT Newswires with over a decade of experience in content and data sales and is well-positioned to help the company grow and scale globally.

"Since enhancing our EMEA offering last year to further complement our all-encompassing Global Markets product, demand has far surpassed our expectations," said MT Newswires' Founder and CEO, Brooks McFeely. "The executives we hire today bring deep expertise in sales and relationship management for high-level operations and will help MT Newswires to grow and scale. Setting down roots in Europe allows us not only to expand our reach in terms of sales opportunities, but also serves to make us more easily accessible and available to support our existing clients worldwide."

A subset of MT Newswires' flagship Live Briefs PRO Global Markets product, Live Briefs PRO EMEA offers comprehensive multi-asset class coverage of major EMEA-based capital markets economies, with a current focus on the London Stock Exchange, the SIX Swiss Exchange, and the STOXX Europe 600.

Connect with Debbie Williams and MT Newswires on LinkedIn.


About MT Newswires

Founded in 1999, MT Newswires is a recognized leader in original and unbiased business and financial news. The company's expanding global network of financial journalists and economists produces real-time, multi-asset class news in over 160 distinct categories to cater to the diverse and evolving needs of the global investment community. Now serving most of the largest banks, brokerage firms, and professional market data, trading, and research applications in the world, MT Newswires has proven to be disruptive in an industry with few competitors.