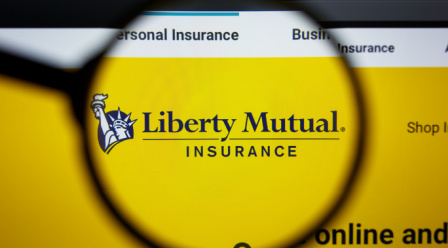 Liberty Mutual Insurance Cuts 370 Jobs in US
(MT Newswires) -- Liberty Mutual Insurance is laying off around 370 of its US staff as part of a restructuring of the company's US operations and senior management positions, a company spokesperson said Wednesday.
The redundancies follow merger and acquisition activity at the company over the past two years that saw it acquire stakes in companies including Ohio-headquartered property and casualty insurance holding company State Auto Group in an all-cash deal worth $1 billion in 2022.
"We have created a new business unit - US Retail Markets (USRM) - that will deepen the company's longstanding focus on personal and small commercial insurance lines in the US," a Liberty Mutual Insurance spokesperson said. "As a result, approximately 370 positions US-wide - under 1% of our global employees - have been eliminated across all functions, many of which are effective by the end of September." the spokesperson said.
USRM is the sixth-largest personal auto insurer, the third-largest home insurer, and the largest multi-line small commercial insurer in the US, with net written premiums of almost $30 billion in 2022, according to the company. The new unit will be headed by Hamid Mirza, previous president of the company's Global Retail Markets US division. Mirza will report to Liberty Mutual Insurance President and Chief Executive Officer Tim Sweeney. Sweeney this month unveiled organizational and management changes aimed at focusing the company on its long-term strategic markets to improve profits and foster innovation.
Under the organizational changes, the company's Asia Retail Markets division which handles the company's personal and small commercial insurance business in the region will join Global Risk Solutions, the company's global commercial and specialty division. Phil Hobbs, president and managing director of Liberty Specialty Markets, will be responsible for the company's international insurance business. Defne Turkes will stay in her position as president of Asia Retail Markets and will report to Hobbs, the company said.
Liberty Mutal Insurance's new Enterprise Transformation and Solutions enterprise, which is aimed at improving expenses and efficiencies and providing data science applications, will be led by Liberty Mutual Chief Operating Officer Jim MacPhee.
The company had $50 billion in annual consolidated revenue at the end of last year. It employs over 50,000 people in 29 countries. The company last month sold its Liberty Seguros division in Europe to Generali Group for an undisclosed sum. Last year it acquired insure tech platform Fetch for an undisclosed amount.
Copyright © 2023 MT Newswires. All rights reserved. MT Newswires does not provide investment advice. Unauthorized reproduction is strictly prohibited.