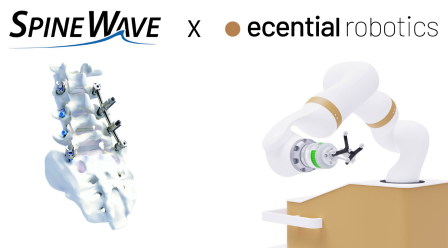 Spine Wave and eCential Robotics Partner to Bring Advancements in Orthopedic Surgery to US
(MT Newswires) -- Spine Wave and eCential Robotics recently formed a partnership to bring the latest advances in orthopedic surgery to more hospitals in North America, addressing increased demand for less invasive procedures. It was the fifth in a series of deals between the French robotics company and makers of surgical components.
Specific terms of the deal were not disclosed in October. The new robotics-based techniques are transforming the field, leading to quicker recovery times and reduced risks. "We made our name through less invasive, posterior spinal procedures where surgeons are going in and they're using screws percutaneously, and what they're doing is very, very minimal," Laine Mashburn, vice president of global marketing at Spine Wave, told MT Newswires in an interview. "When I started, these procedures didn't exist."
Mashburn described Spine Wave as a midcap company with annual revenue of between $50 million and $100 million. The company operates in a crowded field with competitors that include Johnson & Johnson (JNJ), Medtronic (MDT) and Stryker (SYK). Spine Wave also competes with Globus Medical (GMED) and smaller players working to secure contracts with increasingly consolidating networks of hospitals and health providers. The partnership with eCential Robotics gives Spine Wave access to new technologies that improve its competitive position.
"For the spine, it is a very delicate and sensitive operation, because you are targeting some bony anatomy that are very close to the nerve and to the blood vessels," said Laurence Chabanas, chief strategy officer of eCential Robotics, which is based in Grenoble, France. "So you, you cannot miss. You have to be within two millimeters in order not to breach and possibly the soft tissues that are very sensitive. The degree of risk is high. The tools that we are bringing to surgeon imaging, navigation and robotics aim at providing this level of precision."
Using robotics in spinal surgery helps advance an increasing preference for less invasive percutaneous procedures to address various pathologies. "In the last decade, robotic developments in spine surgery have improved the safety, accuracy and efficacy of instrumentation placement," researchers wrote in a June 2022 piece for the Frontiers in Surgery journal.
Robotic orthopedic systems guide instruments and implants through the skin and muscle to the damaged bone. Surgeons need training to acquaint themselves with the technology and the workflow. However, a technician typically operates the software interface to allow the surgeon to focus on the procedure itself. The latest tools can help treat older or fragile patients with intricate spinal deformities.
Both Mashburn and Chabanas described the new techniques as useful for ordinary surgeries to treat patients suffering chronic pain due to aging, injury, or wear, as well as those with genetic deformities or rarer conditions. Chabanas said plans include expanding eCential's platform to other orthopedic procedures.
While the initial adoption may be in larger and well-funded medical centers, operational efficiencies and competition are expected to drive down the cost of robotic procedures over time. The technology could make procedures faster and safer, reducing insurance and malpractice costs and increasing the allure of back surgery. "Over time, the cost of these things will be driven down through competition, and overall operational improvement," said Mashburn. "I would also expect that a robot right now is more likely to be used in a large hospital setting, big medical centers, where they would get savings to the extent that they're able to use the technology to do the procedures faster and safer."
Spine Wave was founded in 2001 by former Sofamor Danek executives Mark LoGuidice, now chairman and chief executive officer, and John Paffor, currently chief technology officer. Its financial stakeholders include New Enterprise Associates, Industry Ventures, and Thoma Cressey Equity Partners. The partnership with eCential Robotics positions Spine Wave favorably, said Mashburn. "There is a demand in the market for robotic surgery," he said. "The patients are more and more educated and they understand this type of technology."
eCential Robotics, founded in 2009, is backed by several European institutions, including the European Investment Bank. It has collected $133 million in three funding rounds, according to Traxcyn. Its advantage over competitors is its compatibility with multiple component providers, distinguishing it from other robotic surgery tools. "Surgeons often do not use the same brand of implants, because they prefer one or the other," Chabanas said. "It's one platform that can be used at all the practices that you have at the hospital."
Mashburn and Chabanas declined to disclose financial details about their companies' growth. eCential Robotics has 12 systems installed at medical facilities worldwide. The company has partnered with American component makers such as Tennessee's ChoiceSpine, and European firms with a heavy US focus, such as Switzerland's Spineart.
Copyright © 2023 MT Newswires. All rights reserved. MT Newswires does not provide investment advice. Unauthorized reproduction is strictly prohibited.