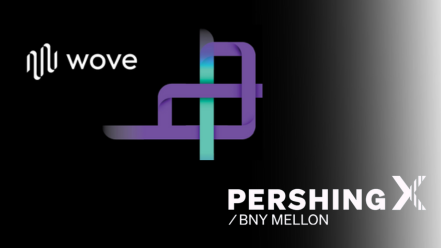 Wealth Management Gets the 'Wove' Factor With BNY Mellon's New Digital Platform
(MT Newswires) -- Pershing X, the fintech arm of Bank of New York Mellon, launched Wove, its digital wealth management offering last month. In an exclusive interview with MT Newswires, Ainsle Simmonds, President of Pershing X, explains how Wove got its wow factor and why interoperability is one of the platform's key differentiating factors.
"Over the last 15 years,[there has been] a movement to what is called a wealth-tech platform to sit on top of a custodian to really help advisors do their work," Simmonds told MT Newswires. "That market has grown up from a few players that had gotten into the business through acquisition[s] and what that left was that unmet need with advisors for a technology stack that connects."
Simmonds said that the challenge traditionally facing financial planners has been how dislocated the different aspects of their day-to-day work are. Specifically, what has become a pain point for advisors, is how often they have to re-enter data when flitting from one planning application to another.
"They call it the swivel chair which is this problem where advisors have to go from application to application and keep re-entering the same stuff, trying to consolidate data that doesn't flow from application to application," said Simmonds. "[They are] trying to figure out how do I take a financial plan and then turn that into portfolio construction and then turn that into a series of trades and most firms have ended up picking between eight-and-15 [pieces of] software [to do this]".
After a strategic review conducted by the bank several years ago, it was decided that Pershing X would seek to bridge the gap by creating a digital wealth management offering that enabled data to flow from one app to another.
The strategic decision was also taken to not build entirely new proprietary pieces of financial planning software but, rather, form strategic partnerships with companies which were delivering in these areas at the highest level.
"In the [business plan] roadmap, we have to provide all of the tools an adviser needs. So [they] have to have financial planning, portfolio construction, trading and rebalancing; all those tools," says Simmonds. "It would be impossible to have built all of those ourselves and do them all really, really well."
Simmonds' team formed a series of partnerships with best-of-breed companies. One of the first ones was with an Artificial Intelligence-based company new to the market for financial planning applications known as Conquest Planning.
Conquest's engine, sometimes referred to by its acronym SAM – which stands for strategic asset management – is able to produce a personalised financial plan in 10 minutes. "When I saw it, I was mind-blown," says Simmonds. Subsequent partnerships followed with Salesforce, PureFacts and Pontera.
From Inception to Roll-Out

It took Simmonds about six months to staff the division tasked with creating Wove with 550 personnel, around half of whom were cherry-picked from different divisions of Bank of New York Mellon.
From that point, the journey from Wove's inception to rollout took 14 months with the team starting in earnest in April 2022 and Wove going live on June 7 this year.
The platform uses what Simmonds describes as open-architecture and it aims to provide financial planners with all the tools they need for their job. To ensure the offering did what it said on the tin, Simmonds' team launched a "Beta" prototype and gave six financial planning clients access to it. They provided feedback over a number of months which was invaluable in refining the user-experience of the technology.
When asked by MT Newswires to put a figure on the money invested into building the platform, Simmonds, who has an extensive background working in the start-up sector, says that this isn't public information but concedes that it was "a lot".
"I always get the question: why has this never been done before and the answer is because it takes a lot of money. It takes a lot of simultaneous investment," says Simmonds. "I don't think this could ever be VC [Venture-Capital] backed given the depth of initial investment that has to be made but for the Bank of New York Mellon it made perfect sense to."
"It's like running five or six simultaneous start-ups, because we have to develop the application, the operating layer and the data layer underneath and you can't do any one of those things [in isolation]; you have to do all of those things at once."
Three-Tiered Revenue Model
The business model for Wove is three-pronged. Financial planners pay a monthly subscription fee to have access to the software as a service platform.
The second revenue stream is charged to planners if they choose to use the bank's investment advice or investment products and that is usually charged as a proportion of the value of assets under management in terms of basis points.
The third stream of income is from data as a service. The bank's data solutions has been designed to enable clients to use its multi-custodial data that it aggregates for them. Clients use this data to power analytics, proprietary technology and third party applications through data integrations and cloud sharing.
In addition to Wove's interoperability capabilities among third party software, Simmonds anticipates that Bank of New York Mellon's proprietary tax transition tool will be important for financial planners when it comes to future proofing their clients' assets.
"[It] helps clients take portfolios and tax-optimize them and then trade and rebalance them in an ongoing way to create tax alpha," says Simmonds who sees change on the horizon for the economic landscape and stock market.
"Advisers have really been running the bull market for the last ten years and looking great to their clients; everything's [been] going up, up and to the right. The next ten years are going to be much choppier and I think adviser value is going to be driven a lot more by financial planning," says Simmonds.
For now, the biggest challenge for Simmonds' team is the onboarding of an influx of clients, many of whom pre-signed before the launch.
"We have a lot of demand so we have to smooth onboarding and make a few things a little bit faster. We have to now make sure that we're able to get people up and trained and productive on it", says Simmonds.
There may be no shortage of tasks to be done in this busy phase of roll-out but Simmonds is laser-focused and accustomed to multi-tasking. More collaborations are in the offing, feedback has been strong and post-launch, Simmonds says there has been "good early momentum".
Copyright © 2023 MT Newswires. All rights reserved. MT Newswires does not provide investment advice. Unauthorized reproduction is strictly prohibited.